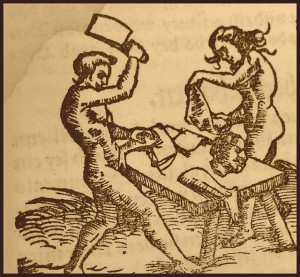 Myśląc o kanibalizmie, czyli inaczej ludożerstwie, antropofagii polegającej na zjadaniu osobników tego samego gatunku, większość Polaków po dłuższym zastanowieniu kojarzyłaby dzikie regiony Afryki, Ameryki Południowej, Oceanii, być może słynne z walk o ludzkie głowy wyspy tj. Borneo lub Papua Nowa-Gwinea. Zwłaszcza, że do dzisiaj naukowcy ciągle odkrywają nowe dowody obrazujące tego typu zjawisko w postaci po pierwsze wzmianek w licznych źródłach historycznych podróżników, misjonarzy, badaczy czy wszelkiej maści awanturników i ludzi żądnych przygód. Z drugiej strony mamy liczne dowody kości czy koprolitów (skamieniałe odchody człowieka) również świadczące o tym czy dany lud, plemię, grupa żywiła się mięsem innych ludzi. Ogromne zdziwienie towarzyszyło młodym historykom z mojego otoczenia, gdy po wnikliwych badaniach siedemnastowiecznych źródeł związanych z licznymi wojnami państwa polsko-litewskiego (podczas pisania przeze mnie pracy magisterskiej o rabunkach w XVII-wiecznej Rzeczypospolitej) zacząłem odkrywać, iż ludożerstwo miało również miejsce w Polsce nad Wisłą.
Po jakimś czasie skupiłem się już tylko na szukaniu kolejnych wzmianek o antropofagii. Ciekawość narastała, pragnienie poznania najciemniejszych kart historii Polski sprawiła, iż tematyka kanibalizmu przylgnęła do mnie na tyle mocno, że stała się nieodłączną moją częścią jak skóra. Owoce tego nietypowego zainteresowania to rodzące się powoli, w pocie czoła, ale jednak, kolejne prace obrazujące problem kanibalizmu w Polsce. Dziś po latach nietypowych badań jestem mądrzejszy i bogatszy o doświadczenia związane ze znajomością zjawiska antropofagii w Rzeczypospolitej, aczkolwiek w dalszym ciągu stanowią one dla mnie nie lada zagadkę. Od dłuższego czasu próbuję ją przedstawić szerszemu gronu Polaków w myśl zasady, iż powinno się znać historię własnego kraju i jeszcze ją opisać zanim zrobią to za nas inni, czytaj zagraniczni historycy. Nie to żebym miał coś przeciwko nim. Po prostu uważam, że nikt tak nie będzie obiektywny w kwestii naszej skomplikowanej historii jak my sami.
Przechodząc do rzeczy, już na wstępie należy zaznaczyć w tym pierwszym tekście z cyklu "Kanibalizm nad Wisłą", iż problem ludożerstwa nie jest bynajmniej jakąś naszą wyjątkową bolączką czy przypadłością. Ot, po prostu zdarzył się, z resztą nie tylko u nas! W zasadzie, o czym podawano już w XIX-wiecznych artykułach prasowych (np. Ludożerstwo wg Letourneau, "Wędrowiec" 1884, nr 46, s. 548-549; Ludożerstwo wg Letourneau, "Wędrowiec" 1884, nr 47, s. 561), kanibalizm występował wśród wszystkich ras, nie był zarezerwowany dla jednego-dwóch państw lub narodowości. Zjawisko to występowało tak licznie w historii świata, iż właściwie nie powinno nikogo szokować, że pojawiło się nad Wisłą. A jednak wielu czytelników mojego pierwszego artykułu "Czy znałem? No cóż, ja go zjadłem". Kanibalizm w siedemnastowiecznej Rzeczypospolitej" opublikowanego w Ibidem, roczniku Koła Naukowego Historyków Studentów KUL było zdumionych, gdy zaledwie w XVII wieku (choć bez mała to sto lat, więc wcale nie tak mało) odkryłem w źródłach kilka wzmianek o uprawianiu ludożerstwa przez ludność polsko-litewską. Tak jak wspomniałem historia np. Europy zachodniej czy wschodniej, pełna jest napomknięć o antropofagi. [Odsyłam do dość dobrze dostępnych publikacji Dzieje kanibalizmu – D. Diehl, M. Donnelly, Historia kanibalizmu – N. Constantine na naszym rynku, w których opisanych zostało wiele przypadków zjadania przez jednych ludzi innych osobników]. Co ciekawe nie był to jednak kanibalizm jak w miejscach z którymi najczęściej będą kojarzyli to zjawisko Polacy, czyli z Afryką, Ameryką Południową czy Oceanią. Różnił się w swojej formie, ale również natężeniu, tzn. nie występował tak obficie, a wręcz był rzadki, aczkolwiek nie na tyle, aby nie przetrwać w formie zapisów historycznych.
Ciąg dalszy nastąpi … wkrótce