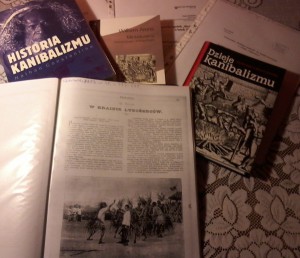 W końcu … w końcu udało się skończyć artykuł. Od dłuższego czasu pracowałem nad zagadnieniem kanibalizmu w prasie polskiej XIX i XX-wiecznej, a konkretnie to w jednym tygodniku geograficzno-podróżniczym. A dlatego trwało to tak długo, ponieważ w międzyczasie zajmowałem się jeszcze całkowicie innym zagadnieniem tj. wywiad z małym uczestnikiem powstania warszawskiego, a obecnie 85-letnim schorowanym Panem, ale to już temat na inny wpis na blogu. Swoją drogą może uchylę rąbka tajemnicy kiedyś przy okazji, jak prace będą na bardziej zaawansowanym etapie.
Powracając do kanibalizmu. Jest to niezwykle interesujący temat, przynajmniej dla mnie. Z mojej pracy powstał artykulik na 23 strony o tym jak we wspomnianym geograficzno-podróżniczym piśmie opisywano ludożerstwo. Wyniki tej pracy mogą zaskoczyć. Owszem ubolewano nad faktem występowania antropofagii. Stwierdzano, że jest to straszna noma, haniebny uczynek. Podkreślano w ukazujących się artykułach, czasami niewielkich wzmiankach, że kanibalizm jest prymitywny, zarezerwowany głównie dla ludów o niskim stopniu rozwoju. Aczkolwiek niektórzy autorzy podali przypadki antropofagii wśród wszystkich ras, stwierdzając, że ludożerstwo dotknęło ludność każdego kontynentu bez wyjątku. Chociaż niekiedy także starano się usprawiedliwiać, stwierdzając, że tam, gdzie owa antropofagia występowała, brakowało zwierząt lub w ogóle pożywienia.
Przedstawiony na łamach tygodnika kanibalizm był raczej tematem tab. Zagadnienie rzadko poruszane w ogóle na łamach prasy warszawskiej, ale poruszane i w związku z tym warto było się tym zająć. Owoce tej pracy mam nadzieję, że będą dostępne szerszemu gronu niebawem, max kilka miesięcy, o czym na pewno wspomnę, jak tylko artykulik ukaże się w jednym z czasopism naukowych.
Temat kanibalizmu jest przeze mnie badany od kilku lat. Do tej pory ukazały się wprawdzie jedynie dwa moje artykuły o tym zagadnieniu, ale długie badania przyniosą nareszcie plon w postaci kolejnych publikacji.
Wspomniane dwa artykuły, które na razie ukazały się to: pierwszy artykuł A. Pawłowski, "Czy znałem? No cóż, ja go zjadłem". Kanibalizm w siedemnastowiecznej Rzeczypospolitej, Ibidem. Rocznik Koła Naukowego Historyków Studentów Katolickiego Uniwersytetu Lubelskiego Jana Pawła II, t. 7, s. 24 – 49 możecie dostać zamawiając pod tym linkiem http://www.werset.pl/ibidem_7.php .
Natomiast drugi artykuł poruszający zagadnienie antropofagii A. Pawłowski, Głód a stan umysłu. Studium kanibalizmu podczas oblężenia Moskwy w latach 1611-1612, [w:] Umysł i kultura, red. U. M. Krzyżanowska, J. Zonik, P. Zonik, Lublin 2013, s. 11-38 również możecie nabyć poprzez Wydawnictwo Werset pod linkiem http://www.werset.pl/publikacje/umysl_i_kultura.php.
Na marginesie jeszcze być może w lutym lub marcu ukaże się trzeci mój artykuł z tym związany pt. Formy kanibalizmu ludności XVII-wiecznej Rzeczypospolitej. Przyczynek do badań nad antropofagią polską (ewentualnie podobny tytuł).
Już na zakończenie dodam tylko po co wysmarowałem ten wpis. Mianowicie nikt w tym kraju nie zajmuje się kanibalizmem i nie ma z kim o tej tematyce dyskutować. Moja żona nie chce, bo ją to nie interesuje. Ojciec mówi, że chyba już wyczerpałem całe to zagadnienie i po co jeszcze piszę artykuły. Jak mówię komuś o moim zainteresowaniu to słyszę, ale temat sobie znalazłeś, masz jakieś problemy z czymś. A z ust pewnego księdza usłyszałem, że badane zagadnienie powinno mnie w pewien sposób ubogacać, po co pisać o czymś, skoro nie przyniesie to żadnym mądrych wniosków. Czy też tak myślicie? Napiszcie czekam na Wasze komentarze …